In life, sometimes it's not what you do and more who you know. It is probably a smart play to attach yourself to the hip of the guy who would become the biggest name in the history of the business. And that is the story of Ed Leslie, aka Brutus the Barber Beefcake in the WWF, the subject of this week's Model Year Wrestler for the year 1989.
Beefcake is famous for his friendship with Hogan helping him along, but he was a friend of Hogan very early on in their careers in the late 1970s. Leslie worked as Hogan's brother to the point where people assumed they were actually real life brothers, going by the names Ed Boulder and Dizzy Hogan at points. Leslie would bounce around until 1984 when he came to WWF as Brutus Beefcake, a vain Chippendale's type. He did work against Hogan in some main events, and faced Bruno Sammartino's son at the first Wrestlemania, but his greatest success would come as a tag team champion with Greg Valentine in 1985-86. Brutus split off at Wrestlemania 3, kicked to the curb in favor of Dino Bravo and launched his barber gimmick by shaving the head of Adrian Adonis after the hair versus hair match against Roddy Piper later on at Wrestlemania 3. By 1988 he was firmly established as a popular mid-card act and perennial IC title contender. On a personal note, when 1989 rolled around Beefcake was actually my favorite wrestler in WWF.
His 1989 started with a match taped for
Saturday
Night's Main Event from late 1988 against Outlaw Ron Bass. Just before Summerslam 1988, Bass had attacked Beefcake with spurs causing him to bleed (and prompting the
famous big red X
WWF used to censor things) and miss his IC title match with the Honky Tonk Man at the PPV. The Barber did instigate things with Bass by cutting up his whip and cowboy hat on an earlier Superstars of Wrestling episode. The Ultimate Warrior won the title instead, and Beefcake's feud with Bass would
culminate at the SNME
with Bass getting his head shaved to give the Barber the big win in the feud.
Coming off that win, Beefcake would not have much to do. In late January, he was not permitted to wrestle Rick Rude in Flint, Michigan due to a decision by the state athletic commission that has never been fully explained. Brutus got a win over Rick Rude by DQ on SNME in March, but his most famous moment from this time period is probably his role in the Megapowers explosion on the Main Event in February. After Savage beat up Hogan with the championship belt and threatened Elizabeth as well, Beefcake
came running into the room
and got belted before order was restored. Thus the seed was planted for the Beefcake/Hogan alliance against Randy Savage, and the Barber and Macho Man would meet again.
After a forgettable double countout with Ted DiBiase at Wrestlemania 5, Beefcake appeared on the Brother Love Show to rip on Sensational Sherri, the new manager of Randy Savage as
announced by the Macho Man
the week before. This is where the term "Scary Sherri" was coined and she came out to distract Beefcake as Savage jumped him from behind. To the absolute delight of Jesse Ventura, Sherri and Macho went into Beefcake's bag for scissors and gave him a bit of a haircut, which Beefcake had done to so many for two years.
A note about Beefcake's matches against enhancement talent: Much of that part of the roster wanted to work with Beefcake and take the haircut because they were paid as much as $300 more for that match as opposed to a standard match. They would also get fixed up by a professional barber backstage after the matches. If you look at some of the hairdos on the guys Brutus beat in the late 80s, I would suggest this was something of a Mullet Control Program to clean these guys up a bit.
The Barber was elevated by getting to match up Randy Savage on house shows, usually losing because of Sherri's interference. The Macho Man had just come off losing the title to Hulk Hogan, who had mostly moved on to No Holds Barred promotion and his feud with Zeus. Beefcake would win some rematches via DQ on house shows, while beating his old partner Greg Valentine when not facing Savage. By the time of his
July 29
SNME match with Randy Savage, Beefcake had become a much better worker than in the past and they had one of the better SNME matches of the year, ending in a DQ with Zeus interfering and being built like a monster. This set up the tag main event for the 1989 Summerslam with Hogan and Beefcake taking on Savage and Zeus. From a Ron Bass feud to the main event in less than 8 months is a pretty good trajectory. Hulk and Brutus won their match at Summerslam, escorted by the lovely Elizabeth who made her first appearance in several months.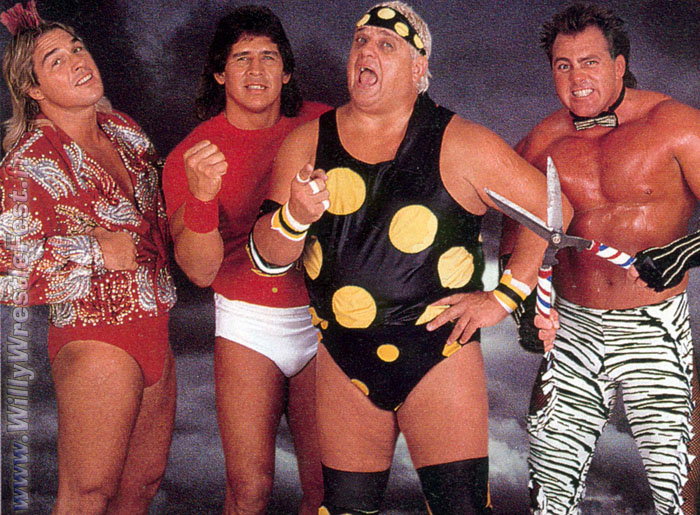 Just as fame can be fleeting, so too can a push aided by a friendship with the top guy. Beefcake couldn't go after the IC title, because the Ultimate Warrior had regained the title. Instead, the Barber was put against Rick Martel on house shows and would routinely lose to Martel, who had just split from Tito Santana but had not yet adopted the full Model gimmick. There's no shame in losing to a talent like Martel, but it seemed like a step back for a guy who was just in the main event and was probably the #3 or #4 babyface in the company. Beefcake was not even a Survivor Series captain, but ended up as a survivor on the Dusty Rhodes-led team at the Thanksgiving event in Chicago.
After avoiding serious injury in a car accident after Survivor Series and missing a show, Beefcake was back in the main event for a special PPV in December called "No Holds Barred: The Match/The Movie" which was an airing of the No Holds Barred movie, and a taped steel cage match with Beefcake/Hogan vs Zeus/Savage. This victory was the final time Beefcake would team with Hogan before his July 1990 parasailing accident. At the time it seemed that perhaps a heel turn could be coming for Beefcake, following a noble tradition of guys turning on Hogan and having money programs with the Hulkster: Paul Orndorff in 1986 and Randy Savage in 1989. But that likely would have meant ditching the barber gimmick that had worked so well for him, so that was a no go.
The feud with Rick Martel kicked off on the TV shows, and they battled on house shows with some rare 50/50 booking for the time period as the newly packaged Model and the Barber traded wins. With his popularity still strong heading into 1990, the Barber was possibly poised for even greater things. Sadly, after a strong first half of 1990, Beefcake was severely injured in a parasailing accident that effectively destroyed his face and put wrestling on hold for several years. It's interesting to wonder how Beefcake would have done as IC champ in late 1990, and much more fun than discussing the parade of terrible gimmicks that followed him throughout the 1990s into WCW. But for one year, 1989, Brutus Beefcake was one of the biggest wrestling stars in the world.